2023 Chris Carman Award Recipient: Tacora Steel-Gossitt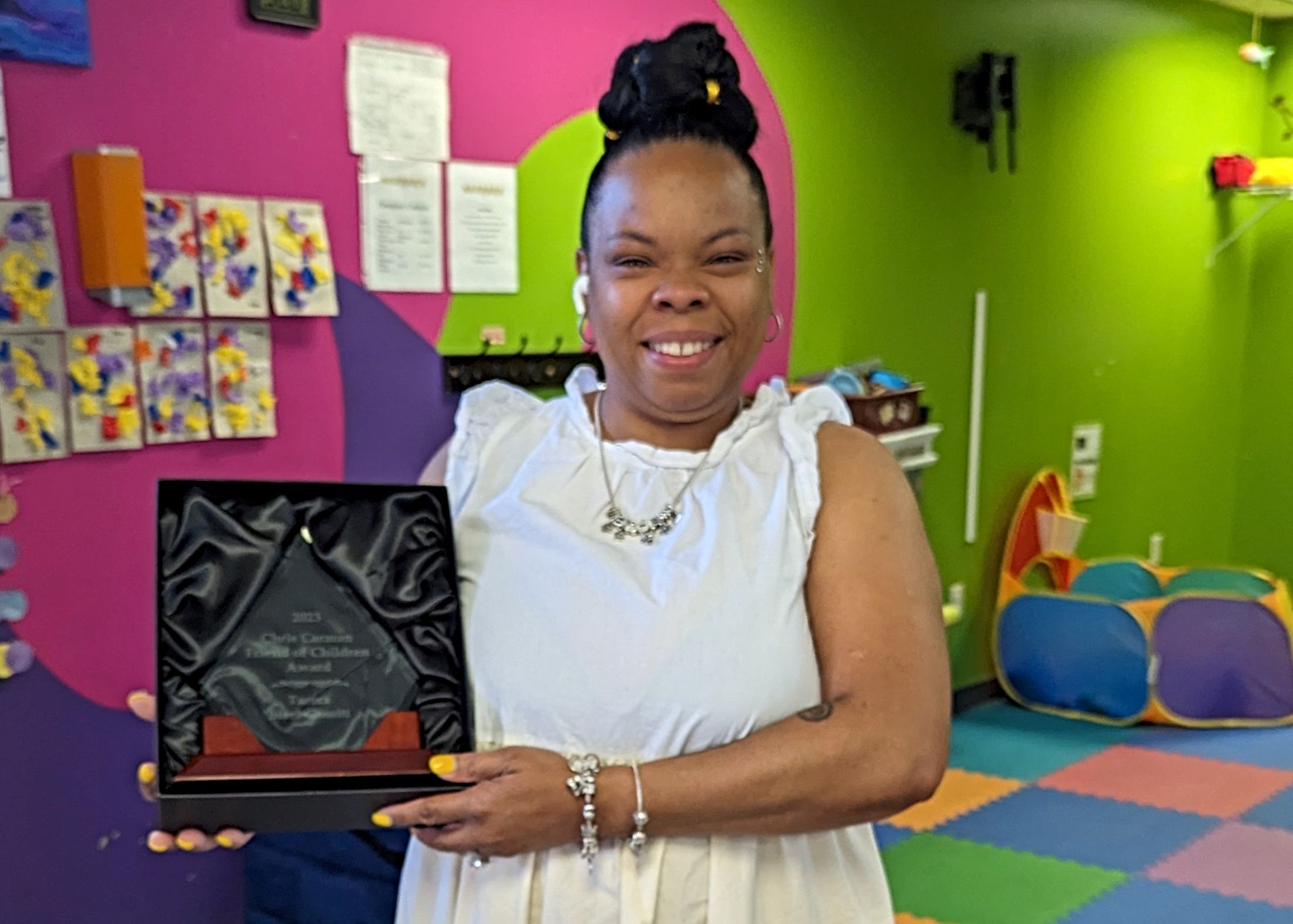 Published: June 19, 2023 | 2:47 PM CDT
In 2004, the Take Care of Yourself Retreat planning committee was proud to award the first ever "Chris Carman Friend of Children Award" to Chris Carman, former Linn County Child Development Center Director and strong community advocate for children. Since then, an early childhood or early learning provider has been honored annually as a "Friend of Young Children".
We are proud to present the 2023 Chris Carman Friend of Young Children Award to Tacora Steel-Gossitt, Owner/Director of We Care Daycare. Here is an excerpt from Tacora's nomination:
"From the first day we opened We Care Daycare Inc., Tacora was determined to learn each kid's name and one thing about them. She quickly learned that the families we serve were in need of help, beyond safe and loving childcare too. Tacora started a food bank within the daycare where families could come and get food for free. She also helps them with gas cards to get to job interviews.
Supporting not only young children directly, but also their caregivers and families lifts up the whole community. By helping families and caregivers be successful, young children are more likely to have a more secure and bright future. Thank you Tacora for everything that you do to support your childcare families and community!!
Past Friend of Children Award honorees have included center, home and crisis providers; foster parents; early childhood teachers, advocates, and leaders. Below is a list of our previous award winners.
Chris Carman (2004)
Sandy Poock (2005)
June Loney (2006)
Saundra Dygert & Kim Hazlett (2007)
Kim Wink (2008)
Roxann Dittmer (2009)
Stephanie Frantz (2010)
Jo Stone (2011)
Chris Kivett-Berry (2012)
Mary Airy (2013)
Becca English (2014)
Jan Bertch (2015)
Jodi Kenney & Ann McQuerry (2016)
Miranda Niemi (2017)
Tracy Ehlert (2018)
Amy Bruner (2019)
Jeanie Wade-Nagle (2020)
Linda Robinson & Jill Pflughaupt (2021)
Donna Hargrove (2022)
Tacora Steel-Gossitt (2023)
2023 Friend of Young Children Honorable Mentions include:
Dawn Blair (Caring Corner Christian Daycare Director)
Valarie Cherryholmes (St Pius X Early Learning Center provider)
Nicole Upchurch (Creekside Forest School provider)
Paula Buck (Early Childhood Freelance Trainer/Coach)
Rachael Bonefas (Child Care Resource & Referral)
---