Give Time
Volunteers are an integral part of HACAP Food Reservoir's operations. Annually, 75% of the food we receive is from our retail partner donors. All of those donations need to be quality-checked and sorted into categories to ensure we are efficiently distributing safe and high-quality food to our neighbors. That is, on average, 5.7 million pounds of food that needs checked and sorted per year. Other needs include repackaging/boxing food to serve the needs of our community and volunteering at one of our mobile pantries to distribute food to folks in need.
37,640 neighbors in HACAP's seven-county service area are experiencing food insecurity at any given time. It is only because of volunteers that we are able to serve them. Please join us in building thriving communities! Sign-up here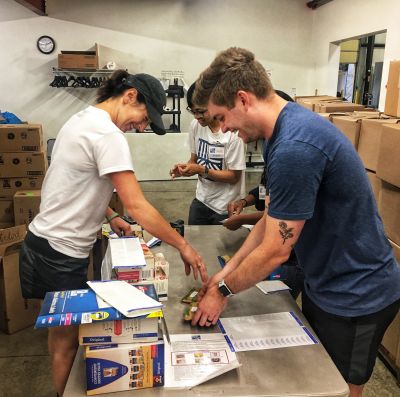 Give Money
1 in 9 people in our community experience food insecurity. When you give to HACAP Food Reservoir, you support people facing hunger today and become part of a movement to thriving communities where all people have opportunities for success. Donate one time, set up a monthly donation, or give from you IRA to provide ongoing support for our work to build stronger, healthier communities.
Donate online here.
Make a planned gift
You can help build thriving communities for generations to come. Contact Allyn Glenn-Angell at
aglenn-angell@hacap.org
or (319) 393-7811 ext. 1013 to learn about naming HACAP Food Reservoir as a beneficiary in your will.
Give Food
Food drives are a great way to involve your friends and family in the work to end hunger. Whether you host a traditional food drive to collect canned goods or hold a virtual drive to raise funds for HACAP Food Reservoir, you can make a big difference.
What is a food drive?
Food drives help us collect food donations to distribute to our partner agencies. They are also a great way to raise awareness about hunger in the community and encourage others to help. Hunger affects every community, but many people don't realize it affects their community. Individuals, schools, community organizations, and businesses can all host food drives.
How to organize a food drive
Hosting a food drive is simple and only takes a few steps. Here are some helpful things to keep in mind when planning your food drive.
Contact us at foodreservoir@hacap.org or (319) 393-7811 to share your plans and get connected to resources to help make your drive successful.
Select dates to begin and end your food drive. We recommend running your drive for at least two weeks.
Collect the most wanted items. We can provide you with a list of our most needed items to share with food drive participants.
Deliver your donations to HACAP Food Reservoir. We are unable to pick up food drive donations and ask that you deliver them to our warehouse at 1515 Hawkeye Dr. Hiawatha, IA 52233. Our warehouse is open to receive donations Monday-Friday between 8:30-4:30 PM. Please contact us directly if you need to make other arrangements.
Food Industry Partners
HACAP Food Reservoir relies greatly on food industry donations. We strive to make all donations easy to manage. We accept food industry donations of perishable, frozen, dry or bulk products that are:
Past their 'best if used by' date
Close-dated
Damaged (some restrictions apply)
Off-spec
Discontinued
Rejected but still safe for human consumption or use
To donate commercial food & products in pallet quantities or to donate perishable items from retail businesses please contact Taylor Glanz at
tglanz@hacap.org
or (319) 393-7811 ext. 1038.
Many donations of product also are eligible for an enhanced tax deduction under IRS 170(C)(3). Please consult your tax adviser for details.
---