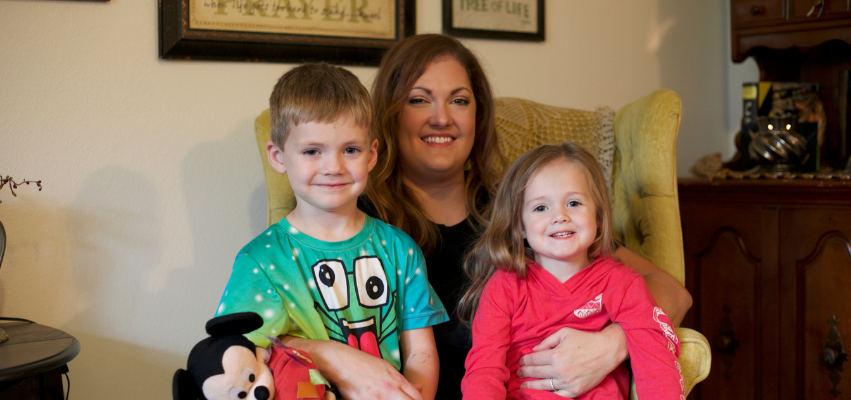 Brittney is a veteran, mother of five and a community member navigating her life back home.
Brittney grew up with humble roots in Minnesota with her 5 brothers and sisters. As she got older, she began to pave the path to her future by attending college. During that experience, she realized there was more that she wanted to do in her life. With that in mind, Brittney left her life in school and joined the service in 2008 as an Aerospace Ground Equipment Maintainer. While this was a new journey at the young age of 21, she was no stranger to the life of service. Both of her great grandparents, her grandparent and her uncle all served for our country, from WWII to present day.
"It has been an honor to serve because that is what my family did and it felt like the right thing to do"
In 2012, Brittney returned to civilian life and began mapping out her life back home. While the road was difficult at times, Brittney navigated it with strength that is to be commended. Following her return, Brittney finished her college career and became a Pediatric Dental Hygienist. As their family continued to expand, their priorities shifted and Brittney knew she wanted to care for her children at home and create a loving and warm space for them to thrive.
While life seemed to move forward like a well oiled machine for many years, just like many, Covid-19 took a toll on their families life. As she juggled life as a mom and wife during a pandemic, past trauma from the service began to surface.
When the burdens became too much to bear, she reached out for help. Through the support of the VA and that of a veteran counselor and HACAP team - she began working on her own health while creating a new future for her and her children. With HACAP support she was able to find a new home that she could feel proud of and a network to support her through every step. These vital services have provided her time to heal by allowing her the opportunity to continue to do what she prides herself in most - being a mother.
Her vehicle is now safe to drive, as HACAP helped ensure she had brand new tires and a reliable source of transportation. Her new home fits all her families needs and she is beginning to build back the life she always dreamed of, while taking care of what matters most, herself.
"I feel empowered, I feel refined and I feel a little more wise. As you go, you have to fail a couple of times to know that you're really succeeding."
---
What is operation Home?
In addition to stable housing, Veterans who enroll in the Operation Home Program are eligible to receive case management services, connections to Veteran and mainstream benefits, and temporary financial assistance.
A number of local organizations are helping HACAP advance our mission to provide supportive services to homeless Veterans and their families. Some of HACAP's partnerships include:
Goodwill of the Heartland
Willis Dady Shelter
Operation Threshold
Hillcrest Family Services
Shelter House of Iowa City
Various area schools
---