How one donation can spark a lifelong joy of giving.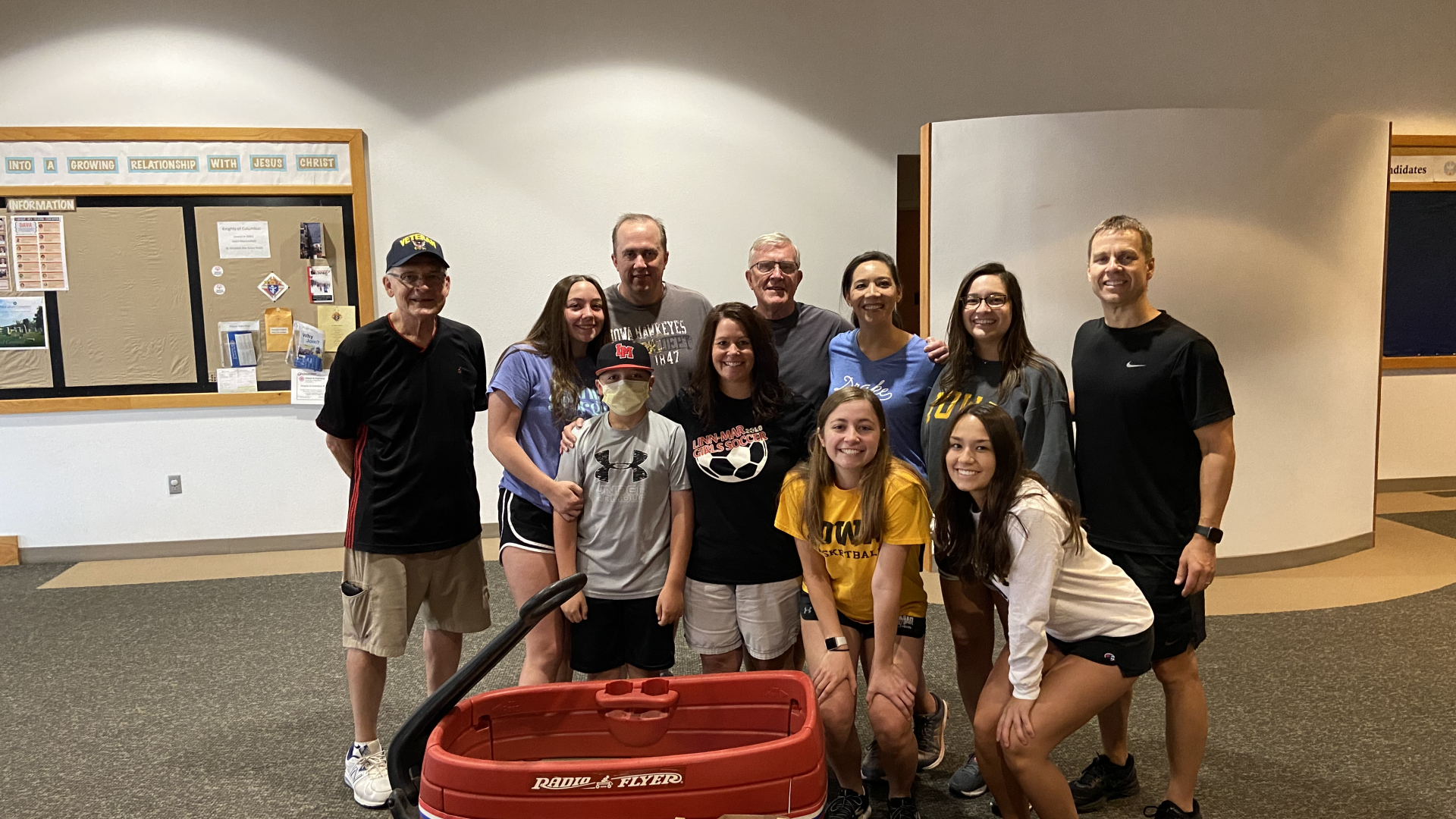 In the face of a multitude of community issues in the past year including Covid-19 and the Derecho it can be difficult to feel like one individual, family, or small group can make an impact. Oftentimes our minds and hearts are in the right place but we wonder, what can one person really do to create positive change? It turns out, one family showed us it can be quite a lot.
For the Bruns family, a single bag full of groceries ended up sparking a movement to a lifelong joy of giving. For 20 years now the Bruns family has been volunteering on behalf of St. Elizabeth Ann Seton Parish to fill grocery bags of nutritious foods and supplies to be delivered to area families in need, including those of HACAP.
This journey started when the family donated their first bag of groceries for the St. Elizabeth Ann Seton Parish local food initiative, the next year they donated another bag and assisted with the delivery, fast forward to present day and they are leading the initiative, along with the Haumessar Family, that is helping families who need it the most. Each year, with the help of parish families, volunteers, and local partners, they fill the room full of household necessities including supplies of toilet paper, laundry detergent, cleaning necessities, food and more, in partnership with the local Hy-Vee and HACAP. When the bags are filled and organized, they pack their vehicles and hit the streets to deliver to the doorstep of individuals and families. In total, St. Elizabeth Seton Parish helps around 200 individuals in the community each and every summer.
While the pandemic has affected their distribution, the team continues to move their mission forward and support HACAP families and others with these needed supplies and food.
"We love it because it is an easy way to give back to the community and help those that are in need. We also believe it is one way to introduce our parishioners to giving opportunities just like we were, and once they see how rewarding it is, they will get more and more involved with this or one of the many other giving activities our church sponsors. "
St Elizabeth Ann Seton Parish and its families are not only giving but they are modeling generosity to their children by involving them in the process and empowering them to also be social agents of change. Today, not only are the children taking part, but the grandparents are too, creating an event that involves three generations of joyful giving.
Through the donation of their first grocery bag, to their community wide impact today, St. Elizabeth Ann Seton Parish and the Bruns family taught us that no act of kindness is too small. HACAP continues to see the impact of this initiative year after year, especially during the pandemic, and is so thankful that this one donation sparked a positive partnership with HACAP. Thank you for being a HACAP HERO!
WHAT IS A HACAP HERO?
HACAP HEROES are the everyday people and families in our communities who do extraordinary things, in big and small ways, and demonstrate kindness, compassion, courage and strength.
The mission of our HACAP HERO series is to celebrate and embrace every one of them, the individuals who won't give up, who give and love in spite of everything that says they shouldn't. We have all heard these stories of heroism in our own communities and many of us have experienced firsthand the extraordinary actions that can change someones life forever.
We'd love to hear your HACAP HERO story! Please let us know how a hero has touched your life by emailing Whitney Sanger at wsanger@hacap.org
---