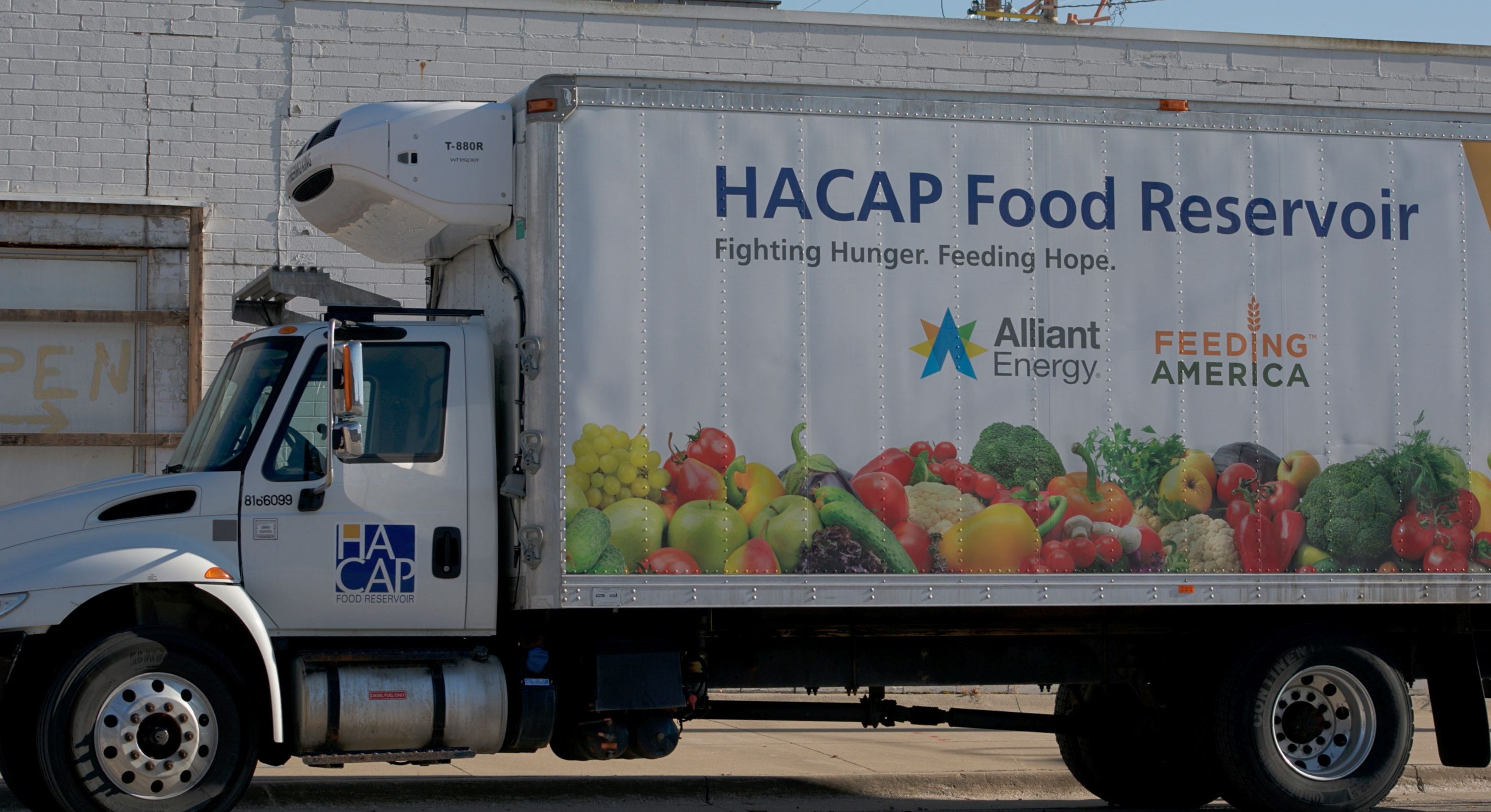 Local Food Resources
HACAP's Mobile Food Pantry truck (seen above) works with partners in local areas to set up a time and day for the mobile pantry to come. On the day of the pantry, the truck is loaded with items from the food reservoir. This can include shelf-stable items, produce, frozen meat, bread, and bakery. These items will vary based on what the food reservoir has available at the time of the distribution.
Community Resources
Food Pantry FAQ's
I need food, but I don't know where to go. Do I need to drive all the way to HACAP Food Reservoir?
The best place to access food is at one of HACAP Food Reservoir's 150+ partner pantries, schools, mobile distributions, or other feeding sites. To find a food distribution site near you, visit
www.hacap.org
and click Find A Food Pantry. You can also call us at (319) 393-7811.
How do I know if food pantries are for me? Are there income or other eligibility requirements that must be met to go to food pantries?
The Food Reservoir welcomes anyone who says they need food at our pantries. There are no eligibility requirements anyone has to meet to access pantries. At pantries that distribute USDA products through The Emergency Food Assistance Program (TEFAP) you will need to sign a form once a year in order to receive food.
The Food Reservoir offers government food assistance programs like TEFAP. Does that mean you are a government program?
No. HACAP is a non-profit, also known as a 501(c)3. While we do receive some funding for certain government run programs like TEFAP that does not make the food bank itself a government program. We will never ask for immigration status or proof of citizenship.
How many times can I get food from a food pantry?
While HACAP Food Reservoir does not have service limits on how many times someone can visit a pantry, specific pantries may have limitations due to available resources. If you are in need of more food than you received at a pantry, HACAP encourages you to visit another pantry near you to get more. To learn more, call the pantry nearest you to answer these questions.
Do I have to live in a specific area in order to get food from a pantry or mobile distribution?
HACAP Food Reservoir serves Benton, Cedar, Iowa, Johnson, Jones, Linn, and Washington Counties. For the majority of Food Reservoir pantry partners, it does not matter where you live. A small number of pantries may limit their service region due to requirements from their funders or due to how much food they have available. To learn more, call the pantry nearest you to answer these questions.
I receive SNAP (Supplemental Nutrition Assistance Program) benefits - previously known as Food Stamps. Can I still use food pantries?
Yes! SNAP is a great program for families needing food assistance. SNAP benefits may or may not be enough to get families through the month, and anyone receiving SNAP benefits are welcome at food pantries if they are in need of food. If you are interested in learning more about SNAP, please call 1-855-944-3663.
I have bills piling up and have to decide where my money goes. Do I need to wait to go to a food pantry until my bills are paid?
No. Many families have to make tough decisions like whether to pay for food or rent. If you're worried about paying your bills (rent, medical bills, utilities, etc.), HACAP recommends coming to a food pantry first and save your money for your bills. We are here to support you.
I used services of HACAP Food Reservoir and would like to share my experience. How do I do that?
Whether you had a wonderful experience or see need for improvements, we want to hear from you! Please call us or email
foodreservoir@hacap.org
if you have a story you would like to share. It is important to note that not every food pantry in Benton, Cedar, Iowa, Johnson, Jones, Linn, and Washington counties is affiliated with HACAP Food Reservoir. When in doubt, contact us and we can let you know!
Does HACAP Food Reservoir offer food delivery?
HACAP Food Reservoir does not offer food delivery at this time. A few of our partner pantries offer home delivery for certain situations. Please contact the pantry nearest to you to find out what options they offer.
Does HACAP Food Reservoir have pet food?
The Food Reservoir does not offer pet food at this time, but The Cedar Valley Humane Society does offer a Pet Food Pantry. Please visit cvhumane.org/pet-food-pantry or call them directly for details.
---